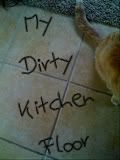 Well, ladies, I just learned a little bit of HTML and made myself some blog buttons. Do look to the column at the right----->
I know, I know, you're expecting a post, not stupid buttons. Well, someone wants my buttons, by golly, but I know, a post would be swell also. Well, you ain't gonna get it tonight! I'm tired from a late night grocery shopping excursion that I ended up paying for in more ways than one, let me tell you, yessireebob...ratsafratsa no good grrummble robble robble...
Any who, so tonight, off to dream land, as tomorrow is daycare day, and well, maybe I'll spit a post out, for the sake of a blogger's sake, I do have a number of them in the works. That's the way I often roll, half-assed and unfinished. But I finished some buttons! Look at that would ya?!
Hey, grab a button, stick it where you can (somewhere that digs HTML)! And keep you eye out for more, I'm sure I'll change it a half a dozen times or so!
Til Tommorrow where I just might make up for missing the table on Tuesday,
Donna Freakin' Reed
damnitall
Personally, I like the floor one the best. But I love the pyrex. Maybe a different font. Hmmm. If you do grab it, make sure you check back because I am bound to change it, but I'm tired and done, and going to bed. Deal.